The six month pack is our best value -  at $27.50/canister (a nearly 40% discount from our single month price) it's hard to beat this, particularly if you are going to make ENOF an important aspect of your efforts to improve your whole family's nutrition. Comes with new measuring spoon for single servings.
ENOF (pronounced like "enough") is a revolutionary concentrated organic vegetable powder that can be sprinkled over or mixed into anything your family eats or drinks. It's packed with great nutrition—one serving (just 1/12th of a teaspoon!) contains up to 90% of your recommended daily allowance of numerous vitamins plus the nutrients are delivered right where your body needs them for maximum absorption.  Better yet, you can add ENOF into recipes and cook with it without losing the nutritional benefits and, since you use such a small amount of ENOF to provide the nutrition you need, it is virtually imperceptible - even by the pickiest of eaters.  

6 one month canisters of ENOF - 360 servings in total.
Is ENOF allergen-friendly?

Is ENOF gluten-free?

Is ENOF organic?

How much ENOF is in a canister?

Has the FDA approved ENOF?

ENOF sounds almost too good to be true. How can that be?
Is ENOF allergen-friendly?
Yes, ENOF is allergen-friendly. ENOF does not contain any of the most common allergens (nuts of any kind, shellfish, dairy products, eggs, wheat or soy) and is not subject to cross-contamination in our manufacturing facillity either. You can read through the full nutrition information here.
Yes! No gluten here, and no chance for cross-contamination either. ENOF is safe for those who have Celiac Disease or other gluten-related allergies.
The vegetables in ENOF are organic, however we have not yet obtained organic certification from the USDA.
How much ENOF is in a canister?
ENOF is very concentrated, so just 1/12th of a teaspoon (or about 265 milligrams) makes up one full serving of ENOF. Each canister contains 60 servings, but this only amounts to 16 grams of powder which fills the canister about 30% of the way. This is NOT a manufacturing error.
Has the FDA approved ENOF?
The FDA does not technically "approve" food items - which is what ENOF is. They do require that we provide full disclosure of the ingredients and also provide Nutrition Facts for the product, both of which can be viewed on our product pages here.
ENOF sounds almost too good to be true. How can that be?
WE KNOW. It's really a small amount. This is possible due to new technology that allows for almost all of the bulk to be removed from the ingredients, leaving only the good stuff. Remember how you felt when you got your first cell phone? It was a breakthrough. ENOF is a breakthrough too. See the science behind it here.
ENOF is made through an innovative four-step process that, at its core, involves freeze-drying organic vegetables and then grinding them into powder form. We designed this process to ensure that all of the nutritional value of the vegetables is preserved – with ENOF, you get the full nutritional benefit of raw vegetables in a form that's simple and healthy for your entire family. Learn the science behind our process here.
Use it on most of my kids' meals
My kids, especially our youngest daughter, are very picky eaters. We put Enof on almost all of their meals as a way to make things like Mac and cheese and pizza more healthy. Even when they help us make dinner they still eat with the Enof on it, we refer to it as "adding their spices" to their meal.
Perfect for finicky eaters.
I always feel a bit better whenever I serve a cereal with a sprinkle of Enof.
Serve macaroni and cheese with pride!
Macaroni and cheese and pasta make up most of my kids' diet so I love adding ENOF to give them extra nutrients. They and I have sensitive palates; they made funny faces at first but I find the flavor mellows after a few minutes and definitely more when cooked (vs a smoothie).
Life Saver - Literally!
My son doesn't eat hot prepared meals, so he won't eat dinner with us, ever. He can detect any taste or texture, but I put Enof in his OJ every morning and he doesn't even know!! He eats plenty of fruits but Enof is the only way he gets his veggies and I'm so thankful for it!!
Tasteless! And easy to take!
My 4 year old autistic son is extremely picky. I can't always guarantee that he will eat all of what I put in front of him, even if I give him go to foods. So I put the ENOF in his milk. He finishes that almost every time and does not notice it's in there. I currently take my son to a feeding specialist and it will probably be years before he will try a vegetable. He may never eat vegetables. But at least I know that he is getting the nutrients in the mean time! It's perfect for our situation. I can't even get him to eat a gummy multivitamin. My only disappointment is that it doesn't offer fiber but other than that it's been perfect for our son!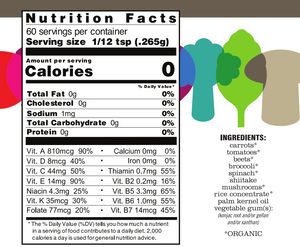 ENOF is:
Made from Organic Vegetables
Non-GMO
Gluten Free
Sodium Free
Zero Calories per serving
Allergen Friendly 
Ingredients
Carrots*, tomatoes*, beets*, broccoli*, spinach*, shiitake mushrooms*, rice concentrate*, palm kernel oil, vegetable gum(s): (konjac root and/or gellan and/or xanthan)
* Organic
ENOF does NOT contain:
Synthetic Nutrients
Artificial Ingredients
Preservatives, Syrups, Sugars, Aspartame or sweeteners of any type
Gelatin